KMS FEATURES & BENEFITS
KMS Fertilizer® is a unique, natural fertiliser product containing three essential nutrients Potassium, Sulphur and Magnesium:
K = Potassium 20% in non-chloride form
S = Sulphur 16%
Mg = Magnesium 7%
All three nutrients are present in the highly available water-soluble form.
The continuous release rate (dissolves slowly) of this organic fertilizer's potassium, sulphur and magnesium elements reduces and resists leaching losses making it a highly effective nutrient efficient organic fertiliser, with good environmental performances.
KMS = Yield and Quality = Sustainability = VALUE = Profitability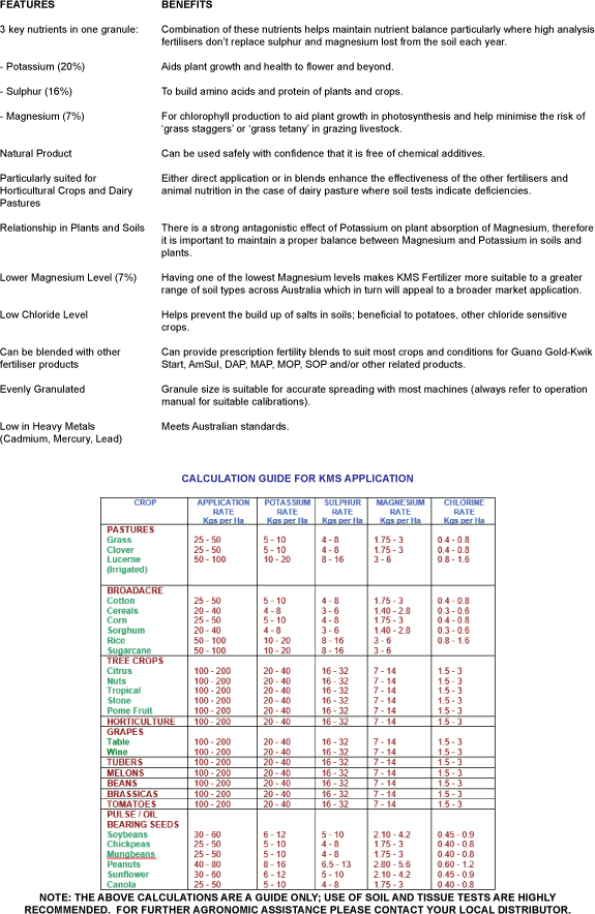 ADVANTAGES OF KMS Organic Fertilizer
KMS Fertilizer® is a highly available fully water soluble and bio available form of Potassium, balanced with Magnesium to aid in chlorophyll production with Sulphur to assist in enzyme activation. As a result KMS natural fertiliser is being recognised for the multitude of other advantages which flow on from this naturally unique product:
The unique 3 in 1 combination of these nutrients helps maintain nutrient balance particularly where high analysis fertilisers don't replace magnesium and sulphur lost from the soil each year.
In comparison to most other KSMg based organic fertilizers, KMS has a lower Magnesium level, making it more suitable to a broader range of soils.
KMS is particularly suited for horticultural crops and dairy pastures via direct application or in a blend to enhance the effectiveness of the other fertilisers and animal nutrition in the case of dairy pastures.
KMS can readily replace traditional Potassium based fertilizers such as MOP with the advantage of reduced Chloride levels (50% vs 1.5%).
KMS in Organic Farming allows for higher inclusion rates of K as opposed to SOP.
Ideal product for Specialised Custom Blending with Guano Gold-Kwik Start, AmSul, DAP, MAP, MOP, SOP and/or other related products. Guano Gold/KMS Blends Chart.
Long term reserves.
ACO Certified (ACO-309AI); suitable for organic crop/pasture application with sound agronomic integrity.
ACO Certificate.
USDA Compliance Letter.
Preferred nutrient ratios - 0:0:20:16 Mg 7%.
There is a strong antagonistic effect of Potassium on plant absorption of Magnesium; KMS helps to maintain a proper balance between Magnesium and Potassium in soils and plants.
Contains very low levels of Chloride making it suitable for high value horticultural crops such as potatoes and other Chloride sensitive crops.
Contains very low levels of heavy metals such as Cadmium, Lead and Mercury.
All nutrients of this organic fertilizer are fully water soluble.
Competitive Pricing.
Available in 25kg Bags and 1.25MT Bulka Bags.
Available upon demand.
Shipped directly to Australian Capital City ports.
Natural fertiliser product quality maintained through optimal turn-over.