Guano Australia - Our History
EstablisHed in 1992
After years of research and study of the ever expanding growth of sustainable based products and markets around the world, Kismet International Pty Ltd and its subsidiary company Guano Australia Pty Ltd were founded and established by John Kismet Jashar in 1992, with their humble beginnings located in Shepparton, Victoria.
In 2005 Kismet International Pty Ltd and it's subsidiary company Guano Australia Pty Ltd reviewed its entire operations and decided (for commercial and logistical reasons) relocation to Queensland would be in the best interests of the company and the agricultural/horticultural community at large.
Under the auspice of Guano Australia Pty Ltd. Guano fertilisers were launched onto the Australian Horticultural, Agricultural and Turf market places in early 1992, beginnning with Madura Gold-Kwik Start fertiliser. Madura Guano Gold-Kwik Start® was introduced to farmers and growers (particularly those already engaged in organic farming) across Australia. The chemical free, granulated phosphorus fertiliser's very important features and valuable benefits have proved extremely successful to date.
With the constant expansion of blending and distribution arrangements set up nationally with independent companies throughout Australia, Guano Australia's range of speciality natural fertiliser products have grown to include Madura Guano Gold-Kwik Start®, Madura Guano Sulphur Gold®, KMS Fertilizer®, Agrispon® and the new liquid products Madura Guano Liquid Gold® and Madura Guano Liquid Gold with KMS®.
All our products are natural fertilisers and the Madura Guano Gold-Kwik Start, Madura Guano Sulphur Gold, KMS and our 2 Guano liquid fertiliser products are Australian Organic Registered Farm Inputs, making them suitable for organic crop application with sound agronomic integrity. Our products have received outstanding support from certified organic and sustainable conventional farmers and turf managers across Australia. We value the support of the organic bio-dynamic industry, all certification entities and in particular, Australian Certified Organic (ACO).
The entire Guano Australia Pty Ltd speciality organic fertiliser product range plays an integral role in an ever expanding Australian organic and sustainable farming industry; enhancing the ever increasing demand for Australian produced organic and sustainable products on the international market.
Mission Statement
We are in the business of marketing our diverse range of Guano Gold® and KMS® certified Organic fertilisers.

We take a personal interest in our customers, their needs and profitability.

We have a premium range of high quality products and take pride in advising our customers of their valued benefits.

We are highly skilled in providing our expert technical and agronomy services advice for our product range and endeavour to train each of our farmer clients, their staff, distributors and agents.

We specialise in the Organic, Bio-dynamic and Sustainable Farming industries and as such promote all measure to enhance and support all farms, farming crop operations and the protection of our environment.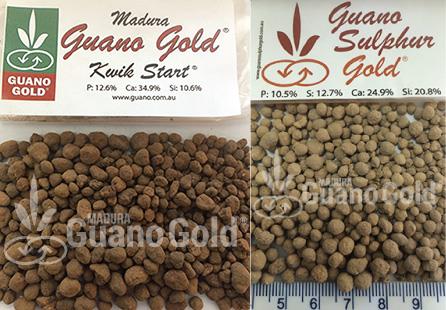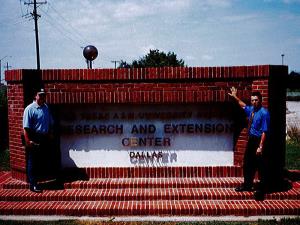 John Jashar and Robert Drewitt on a research trip to Texas A&M University's Research & Extension Centre in Dallas, Texas.