Introducing...
AGRONOMY SERVICES AUSTRALASIA PTY LTD
Agronomy Services Australasia Pty. Ltd. Background
---
Field Based
Cropping programs.
Livestock systems.
Parks and gardens.
Orchards.
Reforestation and land reclaiming.
Pasture analysis.
Compaction testing.
CONVERSION TO ORGANIC FARMING.
Business Based
Cash flow and gross margining.
Project feasibility reports.
Feasibility reports for agriculture acquisitions.
Reports for loss or compensation.
Bank or creditor mediation.
Advice and planning on agronomic aspects of receivership and asset protection.
---
"Where Corporate Agronomy Services start and finish; in the Boardroom"
Judging by the high profile clients ASA services, it's certainly true to its motto. ASA has cemented its footprint in Ag Services with high profile projects such as;
Brisbane City Council.
Sunshine Coast Council.
KordaMentha.
Andrew Morris Legal Practice.
Murray & Associates.
Guano Australia.
Ferrier Hodgson.
ASA is expanding its offer of services and we would like you to place us on your panel for any future work.
Call the ASA TEAM now, to discuss all of your Corporate Agronomy & Technical Service requirements.
You will be amazed as to our expertise and fast service.
---
Agronomy Services Australasia (ASA)
focuses on Agronomy & Finance and will work with troubled loans.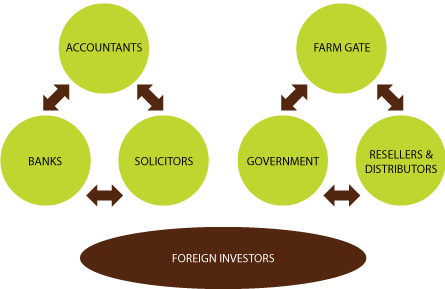 We hold credit and industry membership. Therefore, we tick the box on compliance in the post royal commission world.
ASA offers a broad based approach in dealing within the Agricultural production system. ASA systematic approach deals with agronomy as part of a total farming system. Both pre and post farm gate.
Soil health and its effects on crops and pastures, as well as farm finances and ultimately the value of the farm as an asset, are the areas of utmost importance to Agronomy Services Australasia.
You could say ASA has a holistic approach to the services it provides to the client.
ASA undertakes the usual farm soil analysis, crop and pasture analysis and helps the client to implement achievable programs that are both environmentally and cheque book friendly.
ASA also undertakes analysis for clients of properties acquisitons, validating producton drives behind work out solutions.
ASA can undertake work for banks that are holding stressed or impaired agricultural assets and requires an understanding of the business farming programme and its ability to achieve yield and cash flow forecasts.
This service provides a report on the property, gross margins and cash flow that can be used in conjuncton with historical financial records to secure the best possible funding arrangement from your bank or instituton.
ASA specialises in the delivery of a wide range of informaton and services relevant to agricultural producers and agribusiness.
Managed by experienced professionals we deliver profitable solutions in a number of key areas including:
Programs for stressed assets
Assist in work out solutions
Property acquisitions
Project management
Soil and plant nutrition
---
For all enquiries contact;
Please use the contact form on this page or give us a call.
Robert Drewitt, Agronomist BcSc(Ag)
Member of the Australian Financial Complaints Authority Member No 40617 and holds an Australian Credit Representative Number 503369 & Cert IV in Finance and Broking.

0477 477 069

robert@agronomyservices.com.au



John Kismet Jashar, Managing Director
07 5456 4333 or 0412 474 049

john@agronomyservices.com.au