KMS BACKGROUND
OVERVIEW
KMS Fertilizer® originates from the Qaidam Basin in northwest China's Qinghai Province, well known for its old lake bed resources. Potassium rich brine is extracted from reserves beneath the lake and refined into a high-quality Potassium, Magnesium Sulphate called "SCHOENITE" which is imported and marketed by Kismet International Pty Ltd as KMS Fertilizer®.
China is growing rapidly and agricultural practices are now coming up to speed with western countries, particularly in the use of potassium based fertilisers to achieve better yields and faster growth of crops.
A technique has been developed to produce Potassium Magnesium Sulphate (KMS) at a new purpose-built facility in China. Using patented, cutting-edge technology the plant will produce 1 million tonnes per annum in 2005, the first year of production. This will be closely followed by the production of Potassium Sulphate due in 2006/2007.
Over 3 years the KMS manufacturing company 'QG' initiated an expansive research and trial program. To maintain objectivity the trials were conducted by 'The Soil & Fertilizer Research Institute of Chinese Academy of Agricultural Science'.
Replicated trial sites (3 replicates) were always used. Each trial contained 14 sites with each site measuring 30sq. metres. Trials contained a control and two other products, Potassium Sulphate and KMS.
Crops trialled include Bananas, Sugarcane, Cotton, Tomatoes, Potatoes, Rice and Citrus. These trials assessed many aspects and include research on K, S and Mg uptake by leaves, stems and fruit. Yield data as well as quality was recorded.
For the detailed report refer to: QG KMS TRIAL REPORT
The KMS guano fertilizer product is exceptional in many aspects, not the least in the quality of product and the massive reserves secured for production. As no chemicals are added during the process, the KMS product is a natural fertiliser with Australian Organic Certification (Farm Input 309), making it suitable for organic crop/pasture application with sound agronomic integrity.
Kismet International Pty Ltd [KIPL] through Guano Australia Pty Ltd [GAPL] is an Australian based company specialising in the marketing of a range of speciality organic fertilizers and agricultural products, and has been granted long term exclusive importation, marketing and distribution rights for KMS in Australia. The management of KIPL/GAPL includes technical and business experts (see below) in the field of agronomy, fertiliser industry knowledge, sales, marketing and business management. The company also works closely with agronomists, nutritionists and government bodies to deliver customers the most up to date intelligence regarding crop technology and product developments.
This organic fertiliser is a soluble and highly bio-available form of Potassium, balanced with Magnesium to aid in chlorophyll production with Sulphur to assist enzyme activation. KMS is extremely low in chlorides and heavy metals.
KMS Fertilizer® can readily replace traditional Potassium based fertilisers such as MOP or SOP due to the nutrient make-up of the product, with an advantage over these products due to highly available Magnesium.
Technical and business experts;
In the fertiliser industry, service is synonymous with the provision of superior, professional and effective technical know how. In order to set the KMS Fertilizer technical strategy and marketing development program in place, Kismet International Pty. Ltd. brought together an internationally experienced team of highly proficient professionals whose combined wealth of experience is second to none and include Ian Grant, Peter James Martin, Richard Jackson and David Harbison. This professional collective have been instrumental in the initial launch of KMS onto the Australian market and will continue to provide invaluable support to Kismet International Pty. Ltd. as KMS becomes firmly established in the fertilizer industry.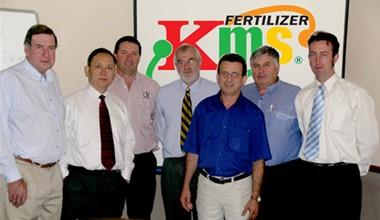 Pictured from left to right: Ian Grant,Tian Hongjun,David Harbison, Peter James Martin, John Jashar, Richard Jackson and Lance Stapleton.
GRANULAR GRADE
Size: 2- 5mm; Ideal for spreading applications, this grade is also readily soluble and provides plants with a fast and sustained uptake of nutrients.

NUTRIENT CHARACTERISTICS
0:0:20:16 Mg7%
Potassium (20%)
Required for synthesis of proteins and starch
Activates enzymes to stimulate chemical plant processes
Improves crop yields and quality and is essential for fruit formation
Sulphur (16%)
Vital for protein and amino acid formation
Promotes enzyme activation
Important for high oil content crops
Magnesium (7%)
Enhances Enzyme Formation
Enhances phosphate adsorption
Essential for chlorophyll production and photosynthesis
FURTHER ADVANTAGES
A unique organic fertilizer product
Preferred nutrient ratios
Packaging flexibility
Fully soluble
Long term reserves
Competitive pricing
Short supply chain
Shipped directly to each capital city Port of Australia on a regular basis to keep product turning over to maintain consistency of product quality.
PACKAGING
1250kg JUMBO Bulka Bags
25kg PP Bags
SPECIAL COMMENTS
KMS Granules
KMS Fertilizer® is an ideal granulated Potassium Magnesium Sulphate product all in Sulphate form.
Custom Blending
The hardness of the compacted granules makes the product ideal for blending with a whole range of fertiliser products, or for sale as a stand-alone product.
Quality
All product is inspected, checked and tested by SGS International before leaving China. Upon arrival in Australia product is inspected and cleared by AQIS and carries ACO organic certification.