organic vineyard soil management programme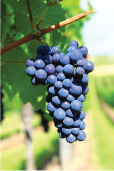 Steve Cuddihy - Woody Pear Wines WA
Woody Pear Wines is a small organic vineyard run as a family business by Steve, Anne and Michael Cuddihy. It is located in Baldivis WA, about a half hour drive south of Perth.
The vines were planted on virgin Tuart soils that were lacking in most of the major nutrients and trace elements. The soil was acidic with a pH of 5.3. We planted cabernet sauvignon, Verdelho and Chardonnay with a customised compost mixed with Guano Gold and applied substantial quantities of mulch for weed control and water retention. Crushed limestone was added to improve the acidity.
We are pleased with the development and the health of our organically certified vines and plan to apply more Guano Gold and compost to the area between the vine rows. This will be utilised for healthy cover crops of clovers and rye grass that will be slashed for green manure. A small batch of Verdelho and Chardonnay has been produced from the recent vintage and we are delighted with the results from such young vines.
We believe our decision to go organic and the subsequent soil management programme has been vindicated.
Steve Cuddihy - Woody Pear Wines