Sustainability with Guano Gold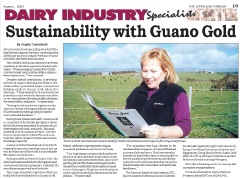 Yvonne Abel recommends Guano Gold for both conventional and organic farming enterprises.
AN interest in developing the potential of the family farm triggered a greater understanding of fertiliser and encouraged Peter and Yvonne Abel into the fertiliser industry.
The certified seed potato farmers have been operating as fertiliser agents for the last eight years. ''We are aiming to satisfy both the conventional and sustainable/organic farming sectors,'' Yvonne said.
Despite initial scepticism, a growing interest in organic farming lead them to the chemical free, granulated organic phosphorus fertiliser product, Guano Gold®, about five years ago. ''There seemed to be more and more interest in it and we're also farmers ourselves, so we thought we'd try the stuff out before we went about selling it,'' Yvonne said.
"Having tried it in a few trial plots over the years we've been very happy with the result. It's certainly done as good a job as the conventional fertiliser.''
Having been formed naturally, Guano Gold is composed of dicalcium-phosphate layers which have been generated by interaction of the remains of coral, sea birds, fish and seaweed over thousands of years. It is very high in fast and slow release Phosphorus, Calcium, Silica, Organic Carbon and Cation Exchange Capacity.
Guano Gold is a valuable resource which reforms the structure and function of soil, as well as being one of the world's most valuable Phosphorus fertilisers.
Having trialled and tested Guano Gold, the Abel's recommend it for both organic and conventional farming programs, confident the results are improved productivity.
The couple observed a carryover effect on a trial plot they fertilised with a Guano Gold blend, with the crop experiencing an increased performance in the second year.
''You're getting your natural phosphorus and a lot of calcium which horticulture crops and grazing pastures benefit from, and you're getting silica which is now being found to assist the availability of phosphorus and reduce the impact of high iron and aluminium in the soil which are both detrimental to the plants,'' Yvonne said.
''For someone who has chosen to be sustainable or organic, it's one of the best sources of phosphorus. But there are also benefits for people who farm conventionally to have a small proportion because it keeps calcium levels up in blends and gives people the silica that is not in other conventional fertilisers.''
The Darnum based fertiliser agents, EPC, also recommend blending Guano Gold with the natural organically approved compound, Kmag. Providing Potassium, Sulphur and Magnesium, Kmag blended with Guano Gold offers five of the six major nutrients required by the soil (only missing Nitrogen).
EPC offer a blending service to suit specific customer requirements.
For more information contact Peter or Yvonne Abel at EPC on 5626 6342.