KMS Fertilizer: a unique 3 in 1 combination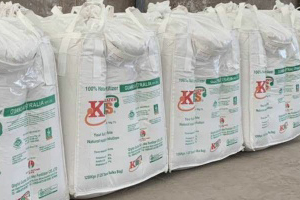 Key Crops: Pasture | Broadacre | Tree Crops | Tubers | Vine Crops | Pulse & Oil Beaning Seeds
Potassium - Sulphur - Magnesium
A natural product free of chemical additives; ENVIRONMENTALLY Friendly and Australian Organic.

Suitable for blending with other fertilisers, such as; Guano Gold-Kwik Start,
DAP, MAP, MOP and SOP.
Particularly suited for horticultural crops and dairy pasture as either direct
application or in blends to enhance the effectiveness of the other fertilisers and
animal nutrition in the cases of dairy pastures where soil tests indicate
deficiencies.
Low Magnesium levels means KMS is more suitable to a greater range of soil
types across Australia.
The unique 3 in 1 combination helps maintain nutrient balance
particularly where high analysis fertilisers don't replace Magnesium and Sulphur
lost from soil each year.
YIELD & QUALITY. SUSTAINABLE. PROFITABLE. VALUE.