Chris Ridout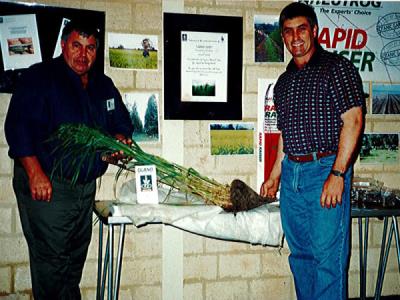 From Chris's introduction to Madura Guano Gold-Kwik Start to 15 years later, he explains how the premium fertiliser has assisted.
My introduction to Guano Gold-Kwik Start® was from another farmer who used it growing oats. We spoke about the product and its make-up of high phosphate and calcium, and I thought I'd give it a try.
The first application was at 80kg per ha, half tonne of lime, 45kg of gypsum, 100kg of mineral mix, with oats seeded at 75kg per ha.
The paddock was ploughed and harrowed to incorporate the above fertilizer mix. This was not my usual practice. I would normally use a knock down herbicide with application of super potash or AGRAS no 2, with direct drill.
It was a reasonable season with a little water logging mid-winter for two weeks. The crop performed quite well, showing no sign of needing nitrogen. The harvest was fairly average, due to a late attack from army worm.
The second year, we planted again to oats, using knock down herbicide with the same application of fertilizer, with Guano Gold® at a less rate of 48kg per ha. It was planted late because of the poor break to the season and just after planting the crop, it suffered 200 mm of rain in seven days.
Once again the crop seemed to show no signs of needing nitrogen application. As the season went on, I was tempted to spray for ryegrass, as it seemed there would be quite some competition with the oats. As it happened, it remained too wet to spray and was left to a later date.
As the season went on, the oats seemed to cope with the competition of out growing to rye still not showing signs of needing nitrogen. It was evident that the oat plant had developed a very vigorous root structure to seek moisture and nutrients, to compete against the weeds.
At harvest, I was surprised at the quite reasonable yields of all paddocks sown. The best paddock performing at an average of 4.5 tonnes per ha, even though there was quite a lot of competition with ryegrass, and still no application of nitrogen for a second year.
I would suggest to anyone wanting to try this new product, that it has shown to work quite satisfactorily for me, and has proven itself to be a top quality fertilizer, which I believe will be used for many farming practices.
Yours sincerely
CHRIS RIDOUT
BOYUP BROOK WA
11.09.2001
---
CHRIS FOLLOWED UP HIS ORIGINAL TESTIMONIAL A NUMBER OF YEARS LATER:
I have been using Guano Gold-Kwik Start® for over 15 years. It seems to work well in all soil types. I like the product because it is all-available to the plant. It also has no sulphuric acid in the product, which over time, I believe is bad for the soil and soil microbes, being one of the most important workers in our soils.
The product is imported by KISMET INTERNATIONAL Pty Ltd and is marketed out of Elders, who provide a 30 day credit facility, which allows you to buy now and pay later. The Guano Gold® was good to use and handle and there were no problems/blockages with the air seeder. What I also like about the product is there is no sulphuric acid and it was easy on the machinery.
Dealing with Kismet [Guano Australia] has been only the one phone call and all has been taken care of by their team. They can give all information from soil samples, plant tissue, the Agronomist if wanted.
I have been pleased with the results from using the products. The year most of Western Australia had very good rain fall, where we farm 60km on the east side of Narembeen we had only 225mm of rain for the year. The season started off well with 75mm in May and good rain in early June. Come late June to early August we had very little rain to the point possibly two more weeks of dry and we may not have harvested much at all. Along with the dry July and August, there were many frosts, but fortunately we weren't affected. In mid August some rain and another late rain in September which gave us the crops we harvested.
Overall the district had mixed results, from badly affected with frost, to 2.3 tonne per hectare.
Chris Ridout