Breakdown of our granular Guano Sulphur Gold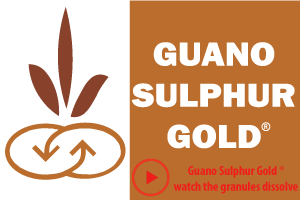 Watch the video of our Guano Sulphur Gold granule breakdown in 20-degree tap water.
© Copyright in this work is owned by Guano Australia Pty Ltd. All rights reserved.
Certified for use in both organic and biodynamic farming and favoured by many conventional farmers also, Guano Sulphur Gold has a pH of 5.58% and is mildly acid whereas most Di Calcium phosphate guanos or rock phosphates have a slightly Alkaline PH.
The original Madura Guano Gold® product is mined and crushed into a fine powder with a large surface area that upon contact with the soil allows for the Di Calcium Phosphate bond to be broken down and the Citric Soluble Phosphate and Calcium to become plant available.
Due to the unique nature of the Madura Seagull Guano Gold® the product contains 24.8% Silica in a Mono Silica form (Si04). This Silica, being acidic and trapped in the powder, creates the chemical reaction that breaks the Guano Gold® granular down.
In June 2012, when Elemental Sulphur was added to our Madura Guano Gold® product, this further decreased the pH of the product to slightly acid. The adding of the Elemental Sulphur coincided with the manufacturing of a larger granular product which was easier to handle and more accurate when being spread or drilled.
This larger granule quickly breaks down into a powder once applied to a moist soil. The above video, which is in real time; a spoonful of Guano Sulphur Gold® being added to warm, 20 degree, pH neutral tap water demonstrates the speed at which this process occurs. In the video hydrogen bubbles can be seen indicating the acid reaction that is breaking the granule back down to its initial powder form, thus giving the highest possible surface area for the release of the Phosphorus and Calcium.